Will seasonality statistics for an equity rally in the holiday shortened week prove true again this year?
Will this week's PCE data repeat last week's strong retail sales?
Will cyclicals suffer amid outlook for additional European lockdowns?
Historically, stocks have tended to do well in the shorter than usual week leading up to the Thanksgiving holiday, and we're expecting that to occur once again in 2021. As well, smaller, domestic businesses are in a position to outperform as conditions are ripe for a comeback in value shares during the upcoming week.
Robust economic data helped most stocks rebound from last week's selloff. Strong in particular stood out, up 1.7% in October, beating expectations. That's the fastest rise for this metric—which came in at less than half in September, +0.8%—since the 1990s. And all the gains despite the US experiencing the highest since the 1990s.
An increase in retail sales generally signals an economic recovery. One would have therefore expected value sectors would receive a boost, rather than the growth stocks via the , which was the big gainer on the final day of the past trading week.
Fedspeak, COVID Acceleration Provide Tailwinds For Tech Shares
However, hawkish Fedspeak amid rising worries of escalating lockdowns in Europe weighed on value shares. Cyclical sectors, including , , and , declined, while the tech-heavy outperformed, advancing 2.36% for the week.
On the other hand, the 30-component , which lists blue-chip mega cap shares, fell 0.63% during the same week. Worse still, the small cap lagged, plunging by 2.36% over the same period. Since small cap domestic firms suffered the most during lockdowns, the Russell 2000 index has been the economic recovery poster child.
The lower valuations of small caps also make them more attractive to some investors. So far this month, roughly $2.4 billion has been funneled into the stocks of small American corporations, the most significant monthly inflow since March—and the month of November isn't over yet.
An additional catalyst for domestic firms could be this coming Wednesday's release which includes the Fed's preferred inflation gauge, and the , which excludes volatile food and energy figures.
From a market seasonality perspective, statistics are 2:3 in favor of a rally in the coming week, with a 57% chance stocks are higher the day after Thanksgiving. That in turn rises to a 71% odds for equity markets to be up on Monday, according to Sam Stovall, chief investment strategist at CFRA.
Treasury yields, including for the benchmark note, finished the week slightly lower, below 1.55. The yield curve after two Fed policymakers declared the central bank might want to hasten the trimming of its bond-purchasing program due to strong economic growth amid spiking inflation.
On Friday, the rose to its highest level since July 16, 2020.
The dollar's rise continues to resume the uptrend after a double bottom. On the monthly chart it's clear how support and resistance at the 90.00 level goes back to 1998. If the greenback resumes its current upward momentum, it will retest the 100.00 level before reaching for 103, the highest point for the global reserve currency since December 2016.
closed lower on both Friday and for the week as a whole. However, this might just be taking a step back before it jumps again.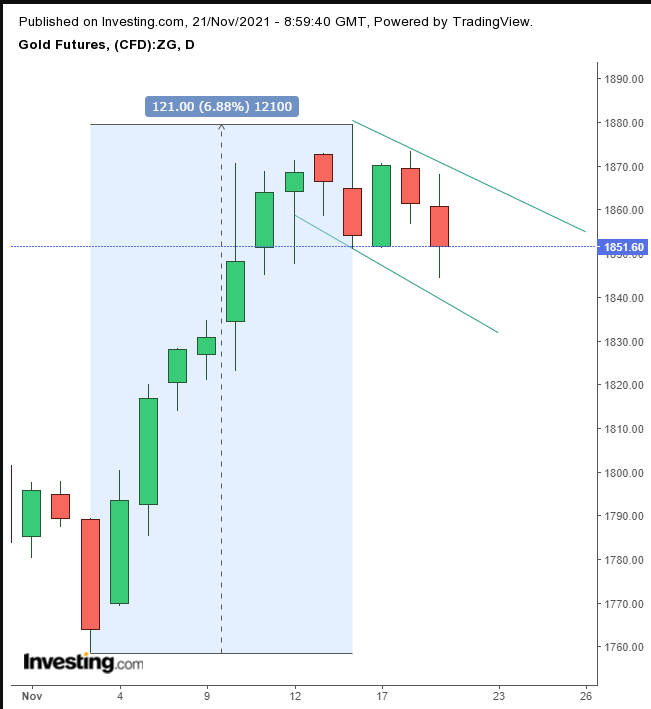 The precious metal's current retreat, within a congested range, is typical after the near 7% pop the commodity saw within ten sessions, which included a seven-day straight winning run. An upside breakout of the "Falling Flag" will complete a continuation pattern, promising another $120 rally higher from the breakout point.
clawed its way back above the neckline of a potential H&S top, though it found resistance by the 50-DMA that ended a two day rally.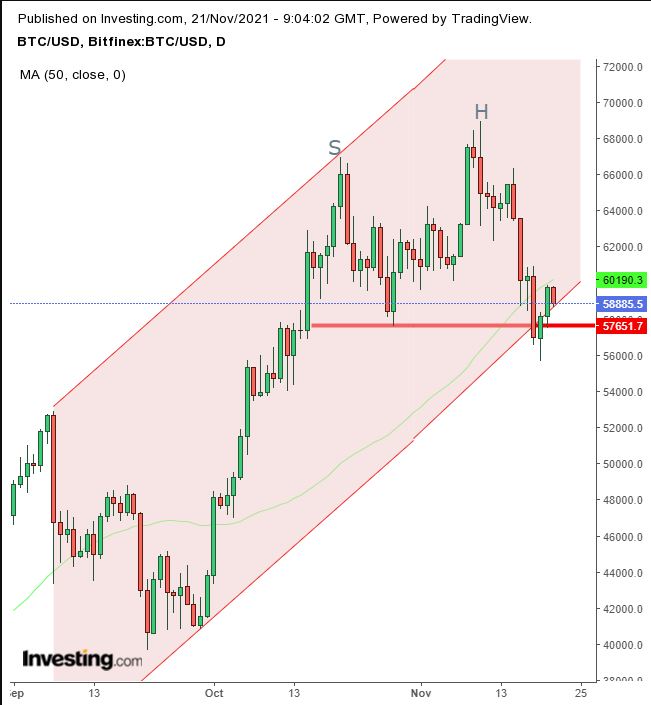 The cryptocurrency's MACD, RSI and ROC are still within bearish formations. Perhaps bulls will attempt another rally that will build the right shoulder of an H&S top.
recorded its sharpest weekly decline since August as traders priced in the outlook for additional COVID-related social restrictions on a global scale, just as some of the largest energy consuming nations have been considering tapping into emergency reserves to ease a global supply choke-up.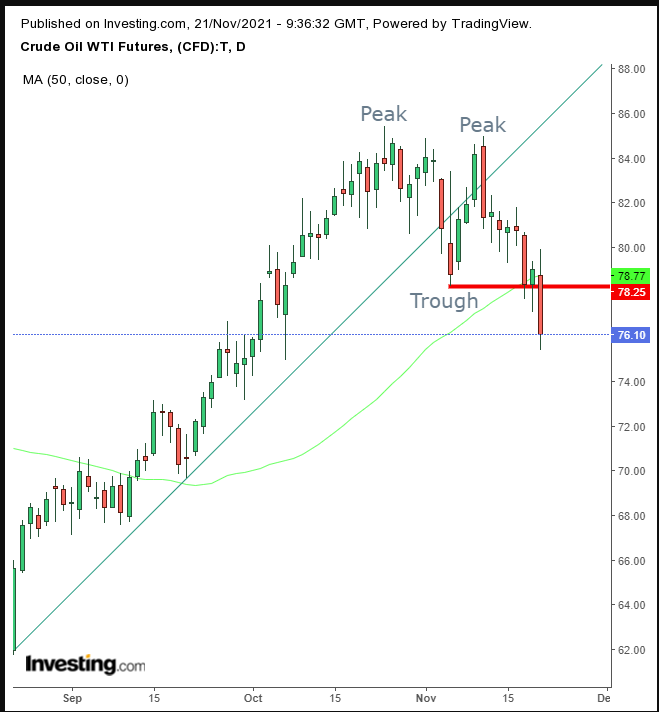 WTI dropped to $76 a barrel Friday, posting a second trough, completing a descending series of peaks and troughs, finalizing a short-term downtrend.
The Week Ahead
All times listed are EST
Sunday
20:30: China – : previous rate was 3.85%.
Monday
2:30: UK – : anticipated to remain at 54.1.
10:00: US – : seen to decline to 6.20M from 6.29M.
Tuesday
3:30: Germany – : projected to have slipped to 51.0 in November from 52.0.
3:30: UK – : likely to have remained unchanged in October at 56.3.
3:30: UK – : seen to have remained steady in October, at 54.6.
20:00: New Zealand – : forecast to raise rates to 0.75% from 0.50%.
Wednesday
4:00: Germany – : expected to edge down to 96.7 from 97.7.
8:30: US – : predicted to stay put at 0.5%.
8:30: US – : anticipated to rise to 2.1% from 2.0% QoQ.
8:30: US – : forecast to drop to 264K from 268K.
10:30: US – : likely to surge to 1.398M from -2.101M
14:00: US –
Thursday 
Thanksgiving Holiday in the US, all markets closed
2:00: Germany – : anticipated to fall to 1.5% from 1.8% QoQ.
8:30: Eurozone –
12:00: UK –
19:30: Australia – : likely to jump to 2.5% from 1.3%.
Friday
3:00: Eurozone –